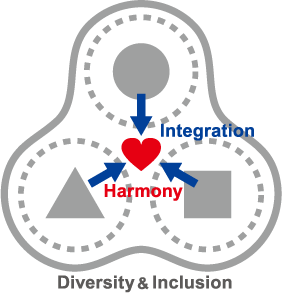 AERU : Integration x Harmony x Diversity and Inclusion
"Aeru" (和える) is a term used in cooking, meaning to mix different ingredients together to create a harmonious whole. When used in contexts other than cooking, the term means to create harmony between different things, whether between male and female, or between Japanese and foreign people. The character "Wa"(和)also means peace.

The process of Arimatsu Shibori-some consists of only two steps – tying fabric and dyeing. A piece of Arimatsu Shibori-some cloth is made by a harmonious combination of these two manual tasks. It is a mission of the Arimatsu Shibori-some community to explore new possibilities of this traditional craftwork brought by such harmonious combination, and to communicate its value widely to the world by facilitating the harmonious combination of traditional and modern techniques while maintaining the spirit of harmony inherent in the Japanese since ancient times, thereby ensuring that Arimatsu Shibori-some will continue to prosper for another 400 years to come.

『和える』(あえる)は料理などで良く使われる言葉です。「和える」とは「異なるもの」を混ぜ合わせ、馴染ませること」という意味を持っています。料理以外に使われ、男女、日本人と外人など互いに異なるものを『調和』させる事を意味しています。
和=peace

有松絞染は、「絞る」「染める」のたった二つの手仕事で「一枚の布」を和えることで生まれる有松絞りの新たな可能性を探求し、同時に日本人が古来からもっている
「和の精神」を大切にしながら、有松絞りの「伝統的な技術」と新しい「現代的な技法」を和えることで、次の400年の未来のために有松の魅力を世界の皆さんへ伝える
ことがミッションです。
"Neo Japonism"
Communicating the quality of "iki" of Arimatsu Shibori-some to the world
IKI: Alluring x Pride x Elegant

The Japanese word "iki" means having an alluring posture and attitude, or being frank and straightforward in interactions with others while being considerate toward their feelings. It is a mysterious and indefinable sense of "ultimate beauty" unique
to Japan, which lies midway among three different human characteristics – being alluring (sexual charm), being proud (confidence and mental strength), and being elegant (sophistication).

Arimatsu Shibori-some gained international acclaim in the Meiji period, winning
the bronze prize in the 1900 Paris World Exposition and the silver prize in the 1905 London World Exposition, and exerted a huge influence on the world's greatest painters such as Henri de Toulouse-Lautrec, Vincent Van Gogh, and Claude Monet, as well as on Art Nouveau, Art Deco and other art movements. As such, Arimatsu Shibori-some was lauded both in Japan and abroad and gained great popularity
for its craftsmanship and beauty.

At the beginning of the new Reiwa period in the 21st century, the Arimatsu Shibori-some community has renewed its commitment to communicating to the world the charm of "iki," a Japanese aesthetic sense brought by the harmonious integration of the 400-year-old traditional Arimatsu Shibori-some technique and modern technique in a spirit of harmony, which has been valued by the Japanese since ancient times. In so doing, the community hopes that Arimatsu Shibori-some products, as works of neo-Japonism, will be appreciated by people around
the world and bring pleasure to their lives.
有松絞りの「粋」を世界へ伝える 〜ネオ・ジャポニズム〜
「粋」とは、色気も漂うような身のこなしや様子。人情の機微に通じさばけている様などと言われています。一言で形容しがたい媚態(色気)、意気地(心の強さや張り)、諦め(垢抜けした状態)の異なる三要素の中空にある摩訶不思議な「日本の究極の美」の表現であるといえます

かつて明治時代、有松絞りはパリ万博(1900年)において銅賞を受賞、続いロンドン万博(1905年)において銀賞を受賞するなど高く評価されました。ロートレック、ゴッホ、モネなど世界を代表する画家や、アールヌーボ、アール・デコなど世界のアートムーブメントに大きく影響をあたえました。有松絞りの工芸技術と美しさは海外でも高く評価され一世を風靡しました。

21世紀の令和という新たな時代の幕開けに、日本古来の「和の精神」を重んじ400年を誇る有松絞りの「伝統的な技術」と「現代的な技法」とを和えることで生まれる日本の「粋」の美しさを世界へ届け、世界の人々の幸せな生活の営みの中で愛される存在になること(ネオ・ジャポニズム)を有松絞染のビジョンと掲げています。